Ellen Johnson Sirleaf made history as Africa's first elected female president, but also faced accusations of corruption and nepotism. How will she be remembered?
Mrs Sirleaf's story is pitted with remarkable feats of defiance and courage, entangled with accusations of corruption and nepotism.
Just days before she was due to step down from 12 historic years in power, she was expelled from her own political party. Some people hold her up as their saviour; others say she's just like all the rest.
"The best thing she did is the peace she kept for us," said 22-year-old Jenneh Sebo, who was sitting lazily in the scorching sun drumming down on the capital Monrovia when I saw her ahead of the country's election in October last year.
This is not an uncommon answer. Liberians went through 14 years of barbaric, drug fuelled, chaotic war, where child soldiers carried out the most unspeakable crimes. Myriad rebel groups reigned over towns and cities with terror, stripping the country of any semblance of infrastructure.
Hospitals, schools, roads and even lamp-posts were destroyed; the latter out of a belief that enemy soldiers could turn themselves into one. So to be thankful for peace is not a flippant response.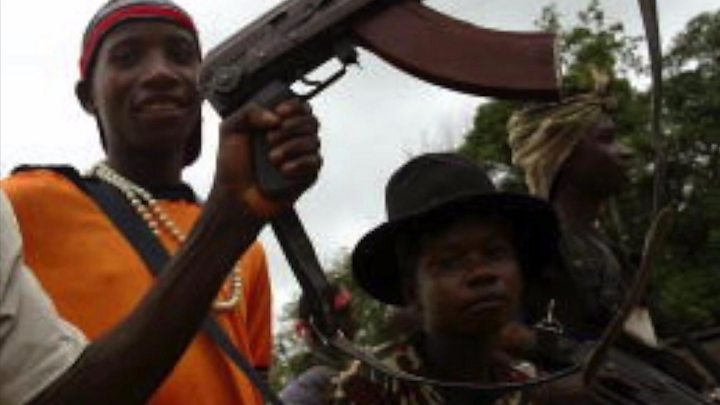 However, 15 years on from the end of the war people have long begun demanding more from their government. Jenneh, too young to remember much of the fighting, was sitting in the sun because she did not have a job and had not been in education since high school.
The same month, on a grassy field opposite President Sirleaf's house in the more affluent Sinkor area of Monrovia, hundreds of women dressed in white danced to music blasting from massive speakers. The musicians sang "we want peace in Liberia, peace in Monrovia", the song Ivorian reggae star Alpha Blondy wrote about their country during the war in 1992.
Many of these women launched a mass peace movement in 2003 that helped finally end war. They organised sex strikes, until their men put down their arms. They forced a meeting with President Charles Taylor, getting him to agree to go to Ghana for peace talks. Once there, they surrounded the room threatening to take off their clothes until some sort of peace deal was reached.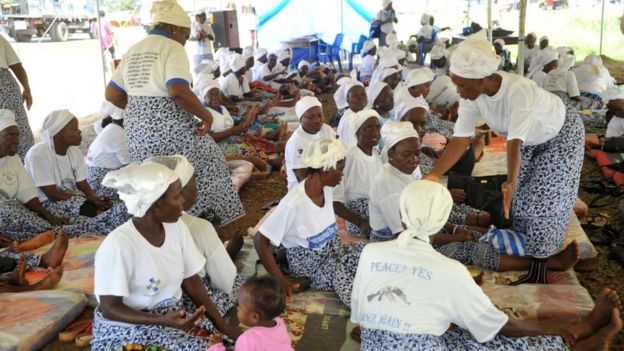 It was these women who then rallied the country to vote for Ellen Johnson Sirleaf in 2005.
"We don't want no problem again," said 73-year-old Kula Freeman, who remembers the war in all its graphic detail. "We don't want no wahala," her friend, 65-year-old Kwa Sheriff said, chipping in over her shoulder. Wahala is the Liberian word used to describe anything from an argument in the street to a full out war. They are both happy for the peace President Sirleaf brought to the country.
Behind them, activist Leymah Gbowee, who won the Nobel Peace Prize alongside President Sirleaf in 2011, began rallying the ladies together. She was one of the key figures who led the peace movement at the end of the war.
Ms Gbowee said Mrs Sirleaf will always be remembered for becoming the continent's first elected female president. But for Ms Gbowee, that is all she has achieved.
"In terms of delivering a women's agenda we really didn't see that," she said.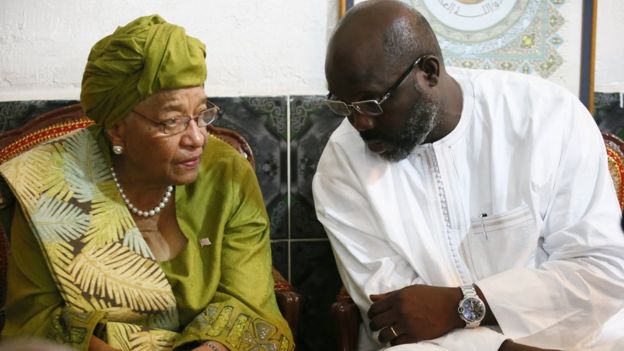 President Sirleaf is not a warm, cosy character and she certainly didn't focus on women during her 12 years in power. However, the Harvard-trained economist did erase nearly $5bn (£3.2bn) in debilitating foreign debt after three years of being in office, paving the way for foreign investment and boosting the annual government budget from $80m to $516m by 2011.
But Ms Gbowee expected more for women.
"She's said she's not a feminist, that feminism is extremism," she exclaimed. "I say, well, if it is I'm a proud extremist."
Under President Sirleaf's tenure a new, tougher rape law came into force but was then amended, reducing the tough sentences and making it a bailable offence.
During her final week in office, President Sirleaf signed an executive order on domestic violence, protecting women, men and children against "physical, sexual, economical, emotional and psychological abuses".
She is however disappointed that a key part of her proposal, the abolition of female genital mutilation (FGM) against young girls under the age of 18, was removed.
"It undermines the very essence of the law and leaves it incomplete", Mrs Sirleaf's spokesman said of the amendment by the Senate and House of Representatives.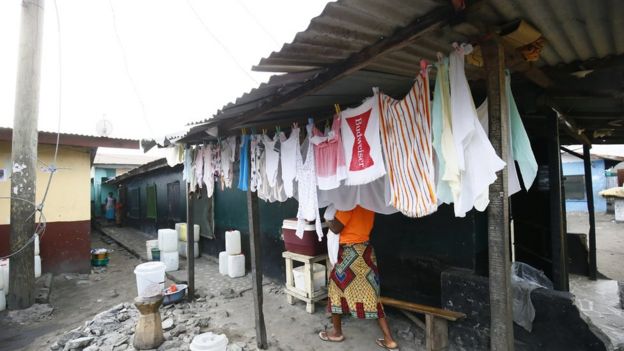 Many thought a female president would pave the way for more women in politics. Yet, not unlike the Thatcher era in the UK, Mrs Sirleaf's departure also marks the departure of women in power. Of 19 presidential candidates there was only one woman, 40-year-old Macdella Cooper, a former girlfriend of incoming President George Weah.
"She didn't have enough women in the house of parliament to help push bills to support women initiatives," said Cooper.
"Economically she didn't have enough women to approve budgets or at least create and craft budgets that will support women. So, she had her limitations."
Despite sharing the title of Nobel Laureate, Mrs Sirleaf and Ms Gbowee haven't spoken since Ms Gbowee said she "criticised her government for corruption and nepotism".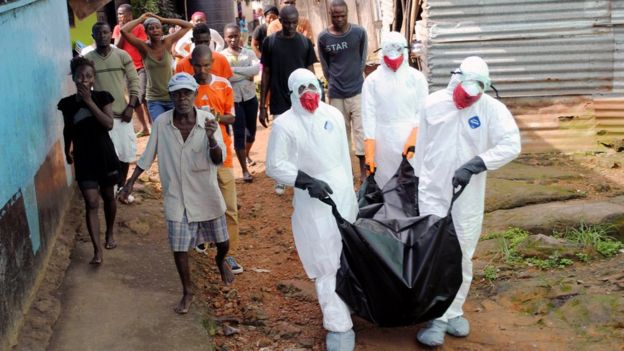 Mrs Sirleaf has long come under fire for appointing three of her sons to top government posts, something she has always defended. Up to 20 members of her family have had government positions at some point. As for the charge of corruption, in 2006 Sirleaf declared corruption "public enemy number one" only to be hit with a flurry of scandals.
Civil servants routinely went unpaid; most notoriously health officials in Lofa County in the north west of the country just as Ebola crept across the border from Guinea. The devastating virus killed nearly 5,000 people, leaving the country reeling and its health system in tatters.
Despite all this, Mrs Sirleaf was a history-maker. Her presidency may have been riddled with corruption and nepotism, but she proved to the world that a woman can dismantle the patriarchal seat of power.
"One thing we can brag and boast of, she broke the glass ceiling," said Ms Gbowee.
"That's a huge inspiration for women."
SRC: BBC News